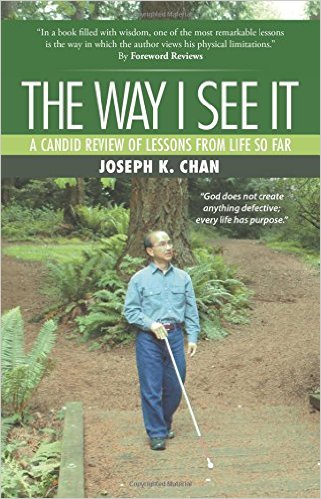 Joseph Chan was born with two rather restrictive birth defects. One of
them is a genetic eye disease known as retinitis pigmentosa (RP), which
is progressive with age. The other is paroxysmal kinesigenic dyskinesia
(PKD), an involuntary muscular spasm brought on by other sudden
movements such as standing up from a sitting position; a condition that
actually lessened after age forty. In The Way I See It, Mr. Chan talks
candidly about the challenges of growing up with these two birth
defects. Despite facing the fear and frustration of falling behind in
school as a little child, and stigma for being different, this is a
story of love, faith, and personal triumph over fate. The Way I See It
is Joseph Chan's spiritual journey to discover his life's purpose and to
share the hope and inspiration that he has found with those who might
also benefit from it.
Title. Double click here.
About the Author
Joseph Chan was born with two rather restrictive birth defects. One of
them is a genetic eye disease known as retinitis pigmentosa (RP), which
is progressive with age. The other is paroxysmal kinesigenic dyskinesia
(PKD), an involuntary muscular spasm brought on by other sudden
movements such as standing up from a sitting position; a condition that
actually lessened after age forty.